Mixed Martial Arts and health taught in perryvale, Alberta.
Kickboxing, Jiu Jitsu, Yoga, Women's Only Martial Arts, Kids' MMA, and Kids' Jiu Jitsu are just a few of the classes  offered  at New Path MMA.
The gym is owned and operated by Josh Kitchen and Dr. Nichole Teering (more about Nichole here). Coach Josh holds a black belt in Brazilian Jiu jitsu, has been a certified personal trainer for over 17 years, and has been training in martial arts for over 16 years. He firmly believes that strength training is a must for everyone. Whether you're seeking to attain athletic goals or to improve your general health, Coach Josh will train you to be stronger and healthier no matter your age or current fitness level. Coach Josh teaches real style martial arts. Although there is a fitness component in every class, you will learn real fighting and self defense skills. He aims to have every student sweating and smiling every class.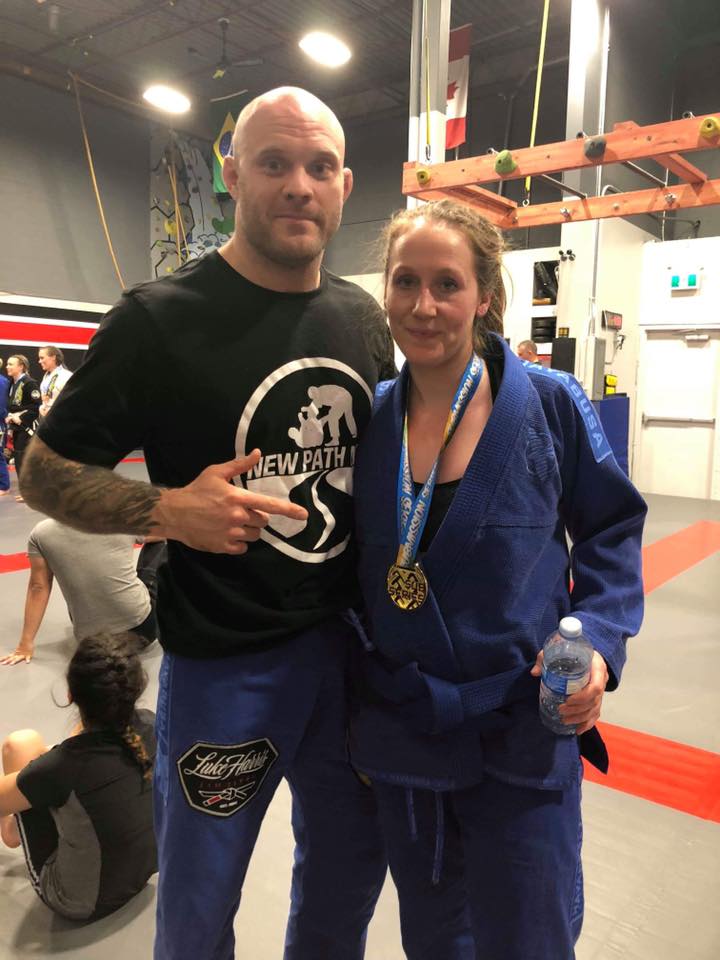 Unlimited access to adult classes for adult members!
Our weight room is open 7 days a week from 7am-10pm.
Subscribe to our mailing list and follow us on Facebook to stay up to date on schedule changes.
Monday
6:00pm
Kids MMA
6:00pm
Kickboxing
7:00pm
Brazilian Jiu Jitsu
Tuesday
6:00pm
Yoga
7:00pm
Kickboxing
8:00pm
Brazilian Jiu Jitsu
Wednesday
6:00pm
Kids Brazilian Jiu Jitsu
6:00pm
Kickboxing
7:00pm
Brazilian Jiu Jitsu
8:00pm
Open Mat
Friday
6:00pm – 8:00pm
Open Mat
 (Members only)
Saturday
No Classes
Sunday
No Classes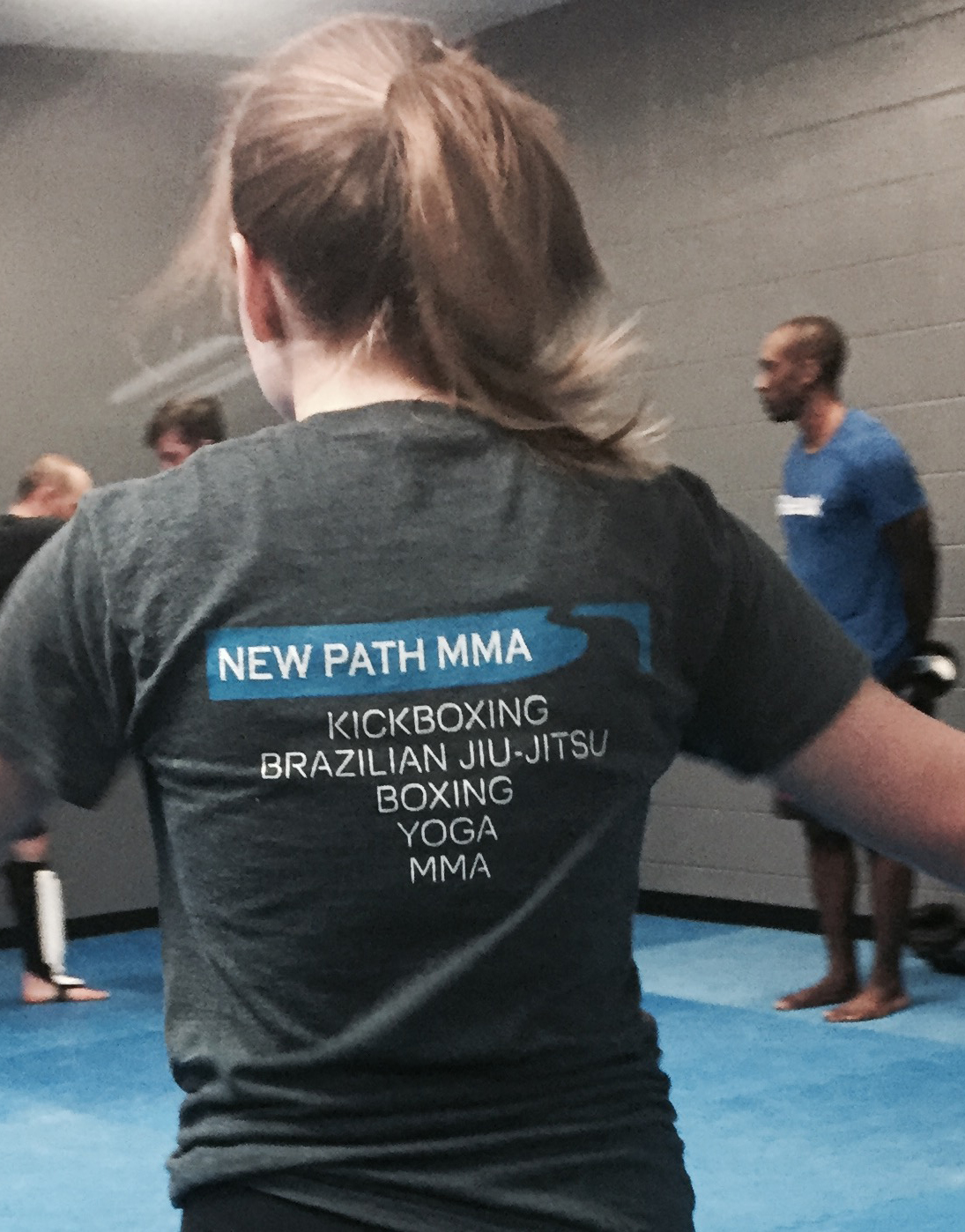 Brazilian Jiu Jitsu (BJJ)
Anyone looking for realistic self defense skills can gain the most out of BJJ. This is a grappling style sport (ground fighting) with no striking (punches, kicks, elbows, and knees). Those looking to challenge themselves, get a work out and learn something new will love Jiu jitsu! We have many of our students currently competing in the traditional Gi and working toward their next belt level, however we also train "no gi", meaning not in the traditional outfit, only shorts and t-shirt or rash-guard. If you are new to the world of grappling, it looks like play fighting or wrestling but with a lot of technical details. It's great for the mind and body.
Kickboxing
Stand up style martial arts with punching, kicking, knees and elbows. We incorporate foot work, hand movements, coordination and combos with both punches and kicks that give an incredible cardio vascular work out that is actually fun!
Yoga
Nichole teaches primarily Iyengar Hatha style yoga. This is very detail oriented for proper body alignment, with the use of props. Any skill or experience level is welcome. Some days we challenge you and we often mix in restorative to balance the body and mind.
Kids MMA
Kids age 6-13 can participate in Mixed Martial Arts (MMA) They will learn both the striking and grappling component to fighting and when they understand the basics they will combine the 2 sports.
Kids BJJ
Just like Adult Jiu jitsu, the kids are to train in the Gi and work toward competing and attaining their next belt level. Ages 8-13 welcome
Monthly auto withdrawal payments available with a 1 year contract
Drop-ins: $20 per day (Cash only)
Kids' MMA & BJJ
MMA: 6-13 yrs
BJJ: 8-13 yrs
---
  Monthly auto withdrawal payments available with a 1 year contract
All children in BJJ require a Hayabusa Gi with a Hayabusa Patch. Please visit Hayabusa training centre in St Albert to find the right size. White, blue, or black gi only.
Gloves for any first time MMA can be borrowed from New Path. After your first class you must purchase your own gloves.
one class/week
Monthly (+GST)
$70
two classes/week
Monthly (+GST)
$90
Kids memberships are paused for the summer.
May be registered for separately
Drop-ins: $20 per day
or
$60 for monthly from the beginning of each month per yoga class
(1 month = 4 consecutive classes)
May be registered for separately
Drop in avaliable  (cash only)
 ** NO SIGN UP FEE UNLESS YOU CANCEL YOUR CONTRACT AND WOULD LIKE TO RESIGN**
1 month notice to cancel at any time
$99 charge for resigning fee
Membership pricing will be setup for auto withdraw. (Please bring void cheque, or bank slip.
Yoga may be registered for separately – $20 drop ins or $60 monthly from the beginning of each month per yoga class (one month = 4 consecutive classes from the start of each month.)
Inquire within for Acupuncture and Nutrition services by Dr. Nichole Teering.
Book an appointment here: helpmenichole.as.me
Ask us for Gift Certificates for any services or products at our facility.
Thank you to everyone for your continued support! We are loving being a part of Athabasca's thriving community 🙂
Frequently Asked Questions
What do I need to wear to class?
All classes are barefoot so ensure your nails are clipped and feet are clean. If you have any warts or rashes please treat them before attending class. Plantar warts can be covered with duct tape as long as you are actively treating it.
Please where shorts and t-shirt or tank top or rash guard to kickboxing, yoga and MMA. And shorts, gi, and rash-guard or t-shirt to Jiu jitsu.
(Please no buttons or zippers or jewelry!)
What is the cost and schedule?
Please scroll up to see schedule and pricing.
Can you make an exception on the age of the kids? Ie: my child is 5 yrs old, can they still join MMA?
Unfortunately it is rare we make exceptions, but please speak with us regarding this by emailing 
newpathhealth@gmail.com
.
Why is there only drop in or membership pricing options? Can I do a punch pass?
No. We have tried punch passes in the past and it is not ideal. We encourage our students to attend regularly and if you cannot, there is drop in option. The good news about drop in is that it is good for the day. This means you can attend more that one class per day for $20 if you are looking for more bang for your buck.
Do I need my own yoga mat?
Many people prefer their own. We have a few to lend out and we are on martial arts mats so no biggie if you don't have one.
What are the class descriptions?
How do I cancel my membership?
Simply email us at
newpathhealth@gmail.com
to give 1 months notice and we will cancel you and let you know when your last day as a member is.